Which Mortgage Is Right For Me?
Posted by Raymond Verderame on Monday, October 25, 2021 at 12:31 PM
By Raymond Verderame / October 25, 2021
Comment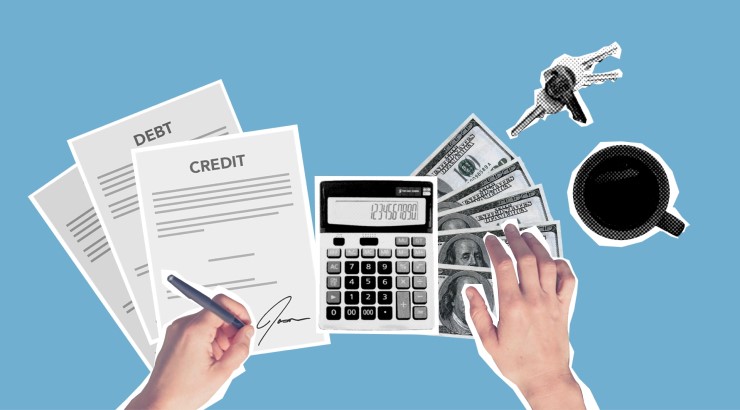 You're ready to buy a home, Now what?
You've been scouring the real estate apps for months. You've narrowed your search criteria, you've set email alerts, and convinced your partner it's time to move. Now what? Now you need a mortgage preapproval. But what kind of mortgage do you need? Which can you qualify for? What lender will you use? How much can you qualify for? There are dozens of questions you need to ask yourself before moving forward. But the bottom line is, you are most likely going to need a mortgage. In this article, I'm going to cover the different mortgages out there as well as the pros and cons of each.
Mortgage Types:
There are a variety of different mortgages out there each for their own unique purpose. In this article we are only going to cover those most common for home buyers. I am only covering fixed rate mortgages, meaning the interest rate is fixed for the life of the loan. Basically, there are 4 common mortgage programs available to you currently.
Conventional Loans- most common type of loans
FHA Loans- federal housing administration government backed loans
VA loans- backed by department of Veterans Affairs. Only available for Armed forces and national guard.
USDA loans- backed by US Department of Agriculture. Usually available in specified "rural" areas.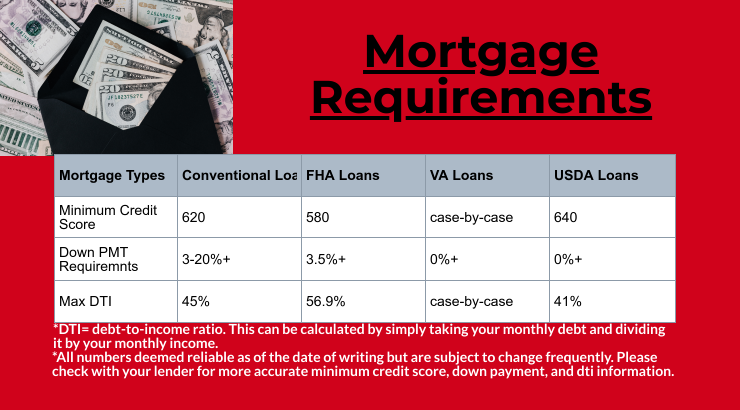 Conventional Loans:
Conventional loans are the most common type of loan for home buyers for several reasons. They are backed by private financial institutions and are thus subject to less restrictions. These lenders either keep the loans in their portfolio or package and resell them on the secondary mortgage market. These loans have lower income and other property specific requirements and regulations than do government backed loans. But they are also a little harder to qualify for then some of their counterparts.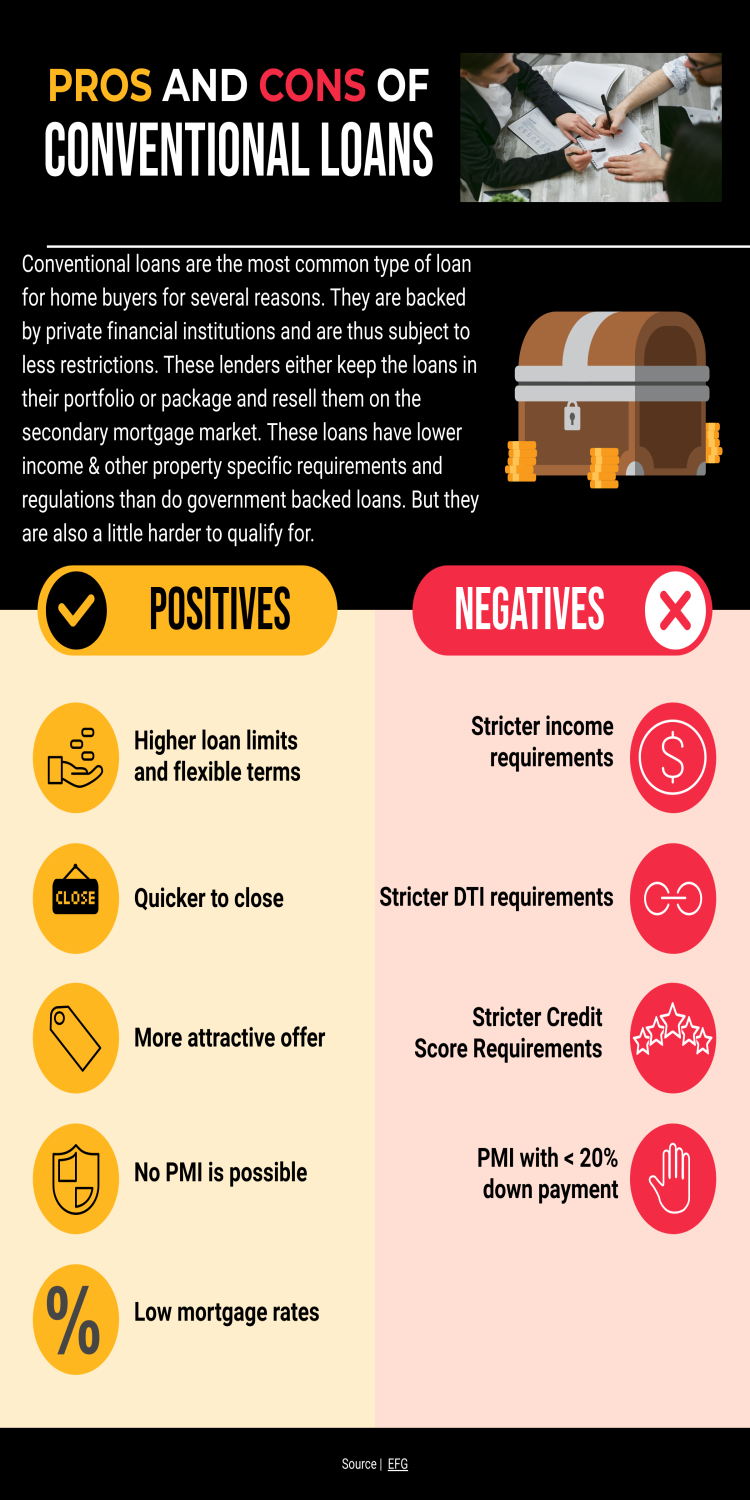 Pros:
Higher loan limits and flexible terms
Quicker to close- conventional loans typically can close quicker because the lender can underwrite everything in house rather than sending the package to other agencies for approval.
More attractive offer- conventional loans are the most attractive offers from a seller's standpoint other than cash. They are quicker to close and less of a hassle. Government loans have more restrictions that can create more of a hassle during the home sale process. Appraisal inspections have the least requirements for conventional loans.
No PMI if down payment equals or exceeds 20%.- if your down payment is 20% or higher you do not have to pay monthly private mortgage insurance.
Low mortgage rates
Cons:
Stricter income requirements
Stricter DTI requirements
Stricter Credit Score Requirements
PMI if down payment less than 20%- if your down payment is less than 20% you must pay monthly private mortgage insurance. However, pmi can still be removed during the life of the loan in several ways. You can eliminate pmi automatically once you reach that 80% LTV (loan-to-value) threshold through your typical mortgage payments or you can refinance if the home's value has risen enough to increase your equity in the property.
FHA Loans:
FHA loans are backed by the Federal Housing Administration. These loans were created to stimulate the housing market and provide loans to those with lower income and credit scores. While helpful, they are not without their own drawbacks.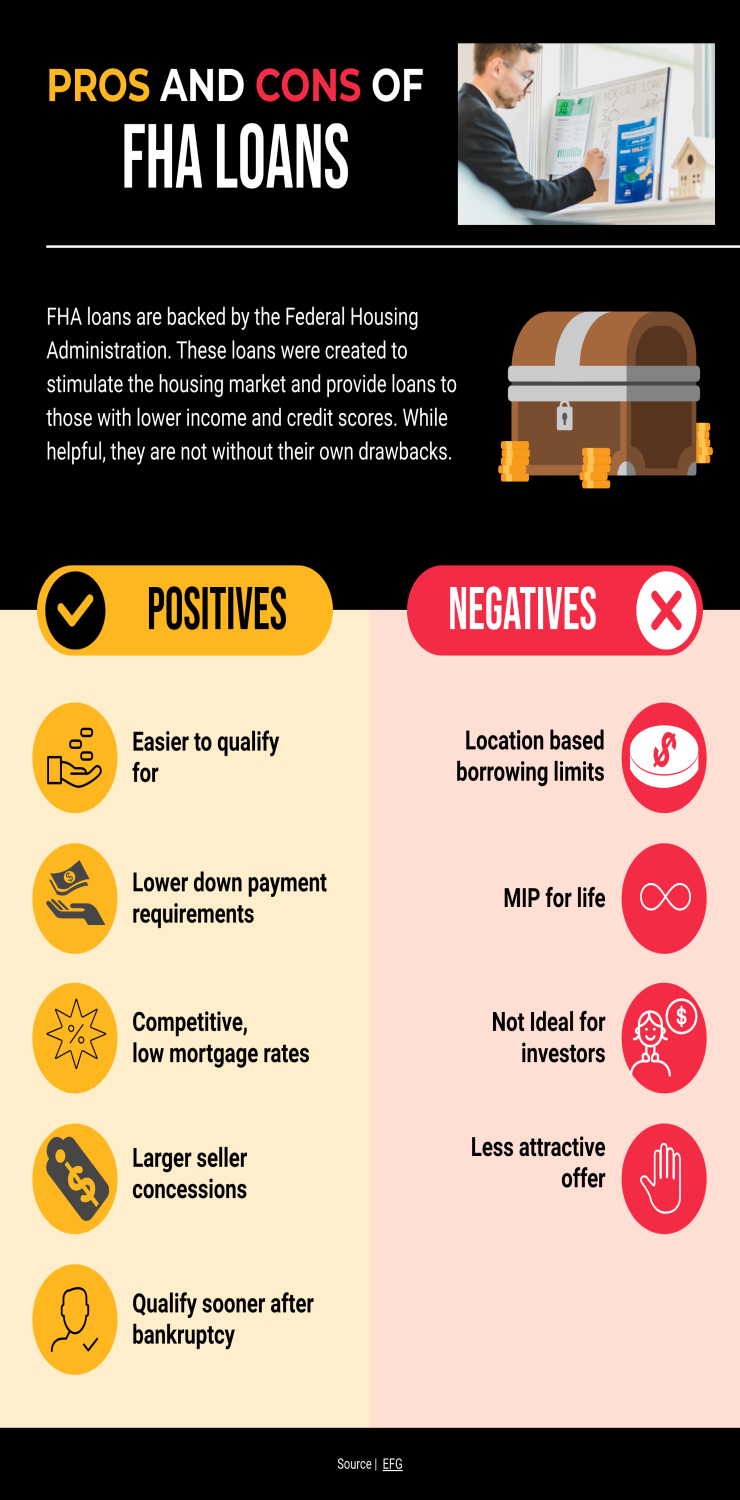 Pros:
Easier to qualify for- Buyers with lower credit scores, higher debt, and lower incomes can still achieve their dreams of becoming homeowners.
Lower down payment requirements- borrowers with less savings can take advantage of the low 3.5% minimum down payment requirement.
Competitive, low mortgage rates
Sellers allowed to contribute more towards your closing costs- when purchasing a home, sometimes buyers can request that the seller pay all or a portion of the buyer's closing costs in the offer. This is called "seller concessions." With fha loans, sellers can contribute up to 6% vs 3% for conventional loans.
Can qualify more quickly after bankruptcy- case-by-case basis.
Cons:
Borrowing limits- based on location.
MIP for the life of the loan- Borrowers must pay mortgage insurance premium monthly. MIP is similar to PMI for conventional loans in that it is created to offset the risk the lender is incurring with a lower down payment. It differs by remaining for the life of the loan. No matter how much you put down or how much of the mortgage you pay off, you cannot eliminate your MIP unless you refinance into a conventional loan.
Not ideal for investors- FHA purchased properties must be owner-occupied for at least one year. On the flip side, fha loans can be a great way to invest for someone interested in house hacking. Basically, you can buy a 2-4 unit multi-family home with an fha loan and rent out the vacant units as long as you live in one.
Less attractive offer- FHA offers are less attractive. No matter how you slice it I would always prefer to accept an offer that is slightly less and conventional. FHA loans can take longer to underwrite and can hit a snag during the appraisal. Unlike conventional appraisers, fha appraisers have different protocols that they must follow, and they must call for certain repairs before the appraisal can be completed. The responsibility of the repairs usually falls upon the seller. After the repairs are completed, the appraiser must come back out for a final inspection to confirm the repairs are satisfactory.
VA Loans:
VA loans are backed by the Department of Veterans affairs. These loans are made available to those who served in the armed forces and national guard. The advantages of these loan programs dominate the disadvantages. It would almost make no sense for those who qualify not to take advantage of a VA loan.
Pros:
Better terms and interest rates
100% financing- 0% down payment eligibility if the house appraises.
No pmi or mip
Cons:
Va funding fees- to offset the 0% down payment and no pmi, borrowers are required to pay a one-time upfront payment to lower the cost of the loan. Since the loan is usually 100% the value of the house, with the va funding fee, you could end up with a loan that is more than the value of the house.
Cannot be used for rental properties
Less attractive offer- similar to fha loans, va loans are more of a hassle to sellers during the appraisal process.
USDA loans:
USDA loans are backed by the US Department of Agriculture. These loans were created to stimulate the housing markets in rural areas. They are only available in specified areas in new jersey. Although which areas are considered "rural," might surprise you. For example, you can find USDA approved properties in Monroe twp, Swedesboro, Mantua, and Medford to name a few. We are not necessarily talking farmland only. I like to call USDA loans, "unicorn loans." They are great if you can get one…but they are extremely hard to qualify for, the underwriting process is lengthy, and lenders hate to deal with them. Recently, I found a property for a good friend and client in Monroe twp. He was preapproved for a nice and easy conventional loan. After the offer was accepted, I realized the property was USDA approved and so I spoke with the lender to see if it was possible to make the switch. It was, we got him approved, and we made the switch. To make a long story short, the contract had to be extended much to the remiss of the other agent, the seller almost backed out 3 times, and we ended up sitting in the parking lot of the bank an hour before closing waiting on the mortgage package to come in so that my client knew how much to make the check out for. In the end, we made it to closing 10 minutes late and my friend walked into his house with a 0% down payment. All he had to do was pay $3000 in loan closing costs. Mission completed.
Pros:
No down payment required
No cash reserves required
Low interest rates
Cons:
Geographic restrictions
Income restrictions
Not for investors
Less attractive offers- like FHA and VA loans, these government backed loans have more requirements and take longer to close.
Usda up-front fee- like va loans, an upfront fee is required to offset the 0% down payment.
The Bottom Line:
The bottom line is that you need to first talk to your lender and see which mortgages you can qualify for. After that you need to weigh the pros and cons to determine which mortgage is right for you. The current market is very competitive. If you can get a conventional loan, it would help immensely when it comes time to make the offer. But the buying process is a long game, there are of plenty of other ways to make your fha offer more attractive to offset the hassle that it may bring the seller.
If you are considering which mortgage is right for you or need referrals for experienced local lenders, please reach out.